PERSEUS Summer Schools
PERSEUS will organise two summers during its lifetime addressing the needs of both EU and non-EU countries to work on subjects related primarily to the MSFD principles, i.e. assessment, monitoring capacities and strategy, and ecological modelling.

The summer schools will be carried out in 2013 and 2014 respectively, while they will be targeted at young scientists from the PERSEUS institutes. The summer school topics will be decided in consultation with the Scientific Steering Committee, which will designate a scientific coordinator for each one, and provide advice and guidance on the programme.

1st PERSEUS Summer School, 3-7 June 2013, Constanta, Romania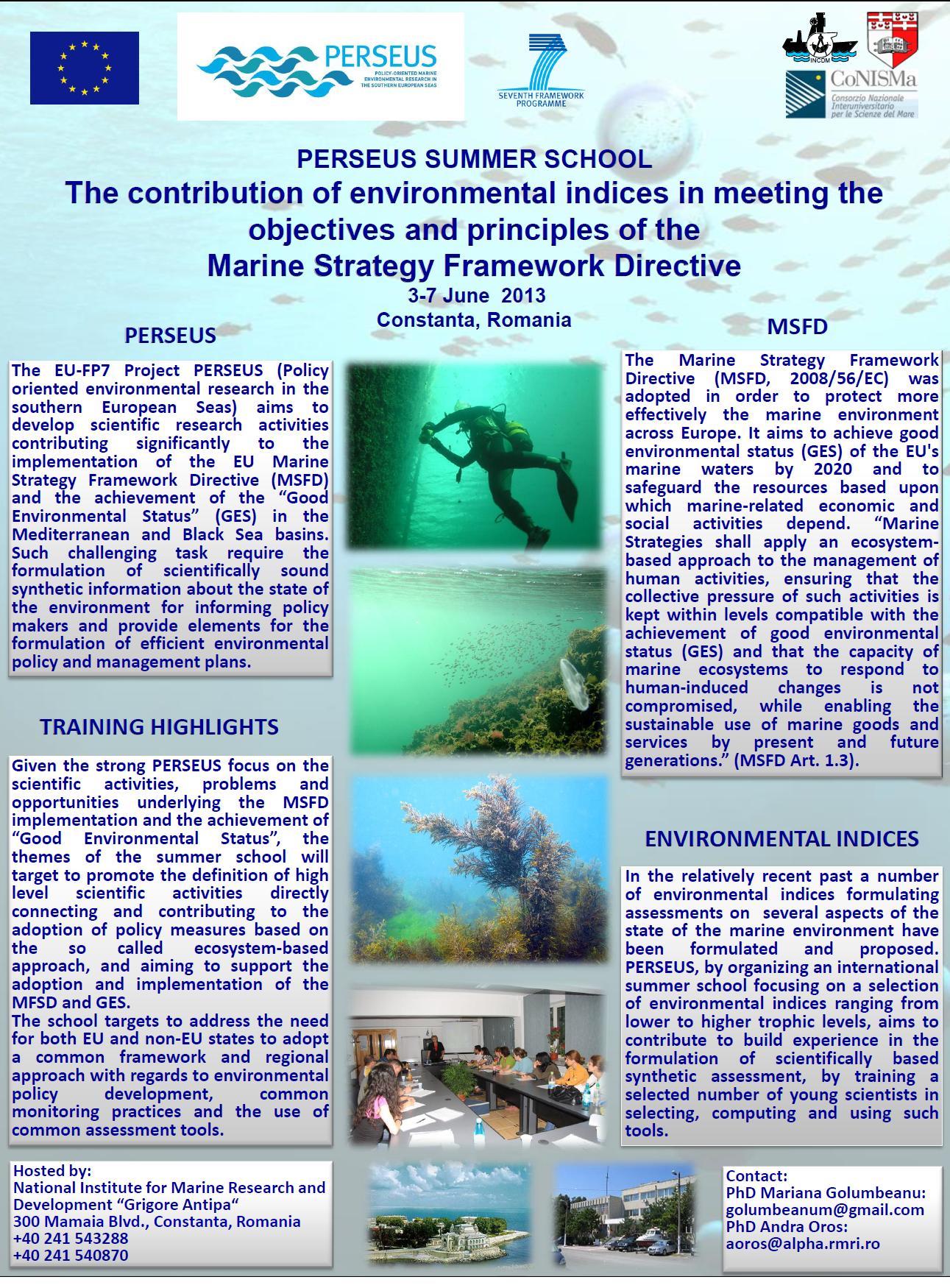 The first PERSEUS Summer School on 'The contribution of environmental indices in meeting the objectives and principles of the Marine Strategy Framework Directive' took place from 3-7 June 2013, in Constanta, Romania.

The intensive summer course was organised by the National Institute for Marine Research and Development (NIMRD) Grigore Antipa, while the planning of the school was jointly done with Consorzio Nazionale Interuniversitario per le Scienze del Mare (CoNISMa) and the University of Malta (UoM).

The school was open to young researchers and PhD students, with a scientific background in biological, physical and/or chemical oceanography, that are willing to expand their field of interest. Applicants who are in a position to disseminate the experience gained from the school to others will be favoured.

Applications were accepted from both PERSEUS partner and non-partner institutions by 15 April 2013.

For details on the course, please see the course announcement and the draft programme.

To see the report of the Summer School (Milestone 23) please click here.

PERSEUS Summer School 2015: "Supporting Monitoring in the Mediterranean towards GES"

PERSEUS organises the 'PERSEUS Summer School of 2015' and invites policy- makers, scientific and policy advisors of the UNEP/MAP Monitoring Correspondence Group (CORMON Group) to participate.

The purpose of the Summer School is to assist countries, to develop, design and implement an effective monitoring (both in terms of science and cost) for the needs of the Marine Strategy Framework Directive (MSFD) and UNEP Ecosystem Approach (EcAp).

The Summer School provides a platform for examples and tools from more advanced plans focusing on non EU countries. The aim is to 'assist' non EU countries to harmonize their efforts, learn from past experience and join efforts in developing joint monitoring schemes across the Mediterranean.

The PERSEUS Summer School took place at the HCMR's premises, in Anavyssos.

The Summer School Programme is available here.

You may read more about the Summer School and its outcomes in the final report (Milestone 40).

For photos from the Summer School, please see this link.


Related Category